"Color Me Your Color…"
Oxnard High School students state their views of their dyed hair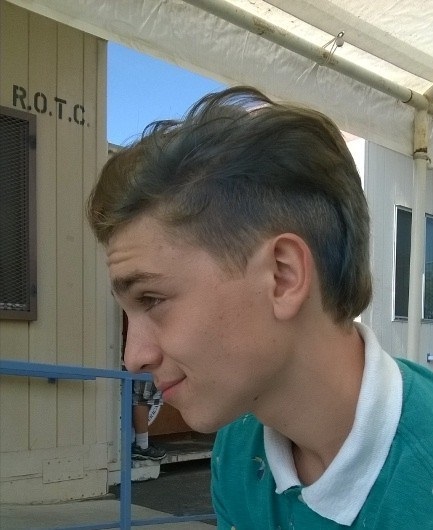 Imani Roberts, Reporter
October 28, 2014
"I just don't like plain hair on me, personally. I think it's too boring," said freshman Efrain Cruz.
Some OHS students have favored changing their hair color in order to match their  outfit and personality. Junior Christina Flores changed her hair, so it would match her outfits.
Sophomore Patricia Etchebarren dyed her hair because she finds herself motivated through her "fun and colorful personality."
Junior Delilah Cervantes said, "I really wanted to get [a] color in my hair because I never dyed it before, and I've been wanting to ever since I was in elementary school."
Though, Cervantes' main purpose for dying her hair evolved. She said, "mainly just dyed it pink because I had a best friend whose favorite color was pink, but he passed away, so I got the pink to remember him." Believing it is "really cool," to see classmates with dyed hair, Cervantes said, "I try to think that if they have a reason like me for dying it, or they just dyed it because they like it."
Some students judge their hair dye based on scent, price value, and quality. "I use the Matrix. Basically because the salon lady recommended it. She said the color would hold best," said Cervantes.
Flores uses "Splat hair dye because it is affordable, and I can get it at CVS [Pharmacy]."
Junior Alec Salinas prefers Old Spice Shampoo because, "it gives me a smooth texture with it. So, even though I dye my hair with that old spice shampoo."
Quite a few students don't get along with certain dye and shampoo products. "Some shampoos irritate my skin because I have sensitive skin," said Etchebarren. Therefore, she uses "Pantene and Herbal Essence a lot."
On the contrary, Cervantes said "I really don't get along with Pantene because it doesn't really…get out most of the hair dye when it's supposed to get most of the color. It doesn't really work." Though she "uses Matrix Color Secure for basically just [her] dyed hair."
When Salinas sees other people with dyed hair, he feels that, "It kind of shows that in their own way, they are their own individual…they are not really afraid to be different and go against the crowd…even though they are kind of going with everyone who already has colored hair."
However, Cruz's opinion differed from Salinas'. He said, "I hardly notice [people with dyed hair] to be honest. I see so many people with it nowadays, it's like whatever."
Several students have considered continuing dying their hair in the later future. Salinas said, "I will definitely I'm probably going to be dying it red, or green, or something like that in a week. Until my profession needs me to stop, or until I have a job that needs me to stop, [and] then I'll stop dying my hair."
Etchebarren said that she enjoys being herself rather than being an adult and having "adult" hair, which she perceives as bland. She questioned, "So why not be fun and colorful?"