Mr. Verdin Makes the Sting Mean
Former OHS alumnus returns to the hive.
"I'm so glad to be back home," said Mr. Verdin, a 2002 Oxnard High School alumnus, who returns to his alma mater as an OHS assistant principal.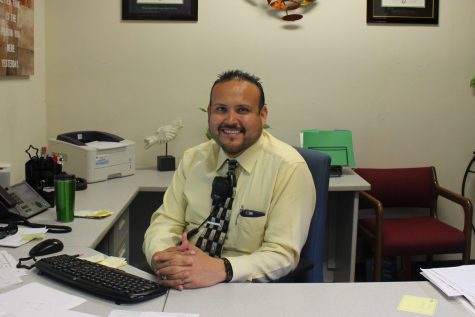 Mr.Verdin is entering this school year with a mindset to create a positive atmosphere and encourage communication. He is determined to get to know as many people on campus as he can, including students, teachers, and staff. He wishes to provide support and, ultimately, to help students reach optimal levels of success.
Implementing the most efficient instructional strategies for student growth and motivating students towards achievement, as quickly as possible, is one of his main goals. "He knows what he wants and he knows what he has to do to make sure everyone around him is a little bit better," said OHS English teacher Mr.Page.
As a senior, Mr.Verdin graduated with a 4.0 grade point average and pursued his dreams of going to college. After attaining his Master's degree, he became a high school counselor for five years, working at Hueneme High School, and then became an adjunct professor at Oxnard College. Mr.Verdin furthered his education and earned an administrative credential.
Although Mr.Verdin had several proud accomplishments over the years, he also had to overcome obstacles while on the path to success. At age fourteen, he and his family emigrated from Mexico. "Coming in from a small town where the population was 450 people and coming to a high school where we had approximately 3,000 people was shocking," said Mr.Verdin.
Being a fourteen year-old in a new country and not knowing a single word of English was one of the challenges he faced growing up. "One of my accomplishments was to be able to learn the language and the culture," said Mr.Verdin.
His  desire to succeed in school was motivated by his family circumstances. Coming from a family that worked in the fields their whole lives, they did not know how the specifics of how to guide him on  the right path, however, they knew that education, in and of itself, was critical.  
Along the way, Mr.Verdin received help from his OHS teachers and now wishes to return the favor.  "I feel that it is my time to give back to my community all the support I received from them," said Mr.Verdin. To be able to see the students succeed is a crucial element in his desire to be at OHS it is something he is excited to be a part of.
Mr.Verdin has high hopes for a great school year. "I'm looking forward to working with him and he's a great addition to the administrative team," said OHS assistant principal Ms. Venable. Mr. Verdin is a great administrative addition to OHS, but seeing his how excited he is about his return 'home', it is as if he never left.