Super Campus Supervisors
A look into the work and lives of Oxnard High School's Campus Supervisors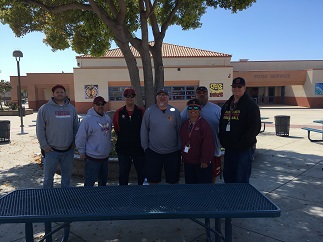 Every day, they are seen by hundreds of students, yet few know much about these hard-working individuals. These distinguished men and women deserve their time in the limelight, and it shall be granted them.
Although, campus supervisor Rose Lapointe began her job by subbing for her husband, and has worked at OHS for almost 25 years, she has risen to become an integral part of the school's  community. When speaking of fond memories of her experiences at the school, she said, "every year in the month of May, they would encourage the seniors to go to grad night, so a bus from Disneyland would actually pull up and the characters would actually come off, from Mickey to Minnie to Pluto."
Lapointe went on to say, "I am very proud of the spirit that we have on the campus right now, especially with basketball, and then of course our girls in soccer are proud that they won the [California Interscholastic Federation Championship] last year." Creating lasting relationships with students and seeing them achieve their goals are things that she greatly enjoys.
Throughout his life, Campus Supervisor Jensen has worked in construction, sales, youth groups, and churches. At the peak of this illustrious career, he says he enjoys "seeing our next generation and [guiding] them in the right direction." Keeping people safe, stopping arguments from escalating into fights, and helping students make better decisions have been a part of Jensen's three years working at OHS.
Campus Supervisor Tony Vazquez, or as he likes to go by, "Coach Tony" is another exemplary fellow, who shows his dedication and willingness to help students on a daily basis. He is sometimes seen at the gate closest to the flagpole. His duty there is to stop "non students [from coming] in without papers, or student leaving without papers." He has a keen eye and can recognize new faces trying to slip in or out, and can then check their paperwork, or lack thereof. Vazquez has worked in the district for 25 years, with the most recent three of them being at OHS. In those three years, he has coached alongside Coach Mark Beckham in football.
A common hardship most of the interviewed Campus Supervisors shared was the rough conditions in inclement weather. This was more than compensated for by the impact they are able to have in the lives of thousands of students.